Working from home is becoming the new work standard in the United States. In March, the COVID-19 pandemic necessitated the temporary closure of offices and the push to have employees work from home to prevent the spread of the virus. Six months later, and the data is in – work from home productivity studies tell us 42% of the American workforce is still at home in their jammies, plugging away on their keyboards.
It seems the stigma associated with working from home has lessened or disappeared entirely. This has led to remote work increasing even before COVID-19. But are these workers productive? What are the working from home productivity statistics that employers should take note of for the future?
How Remote Work Has Grown Over the Years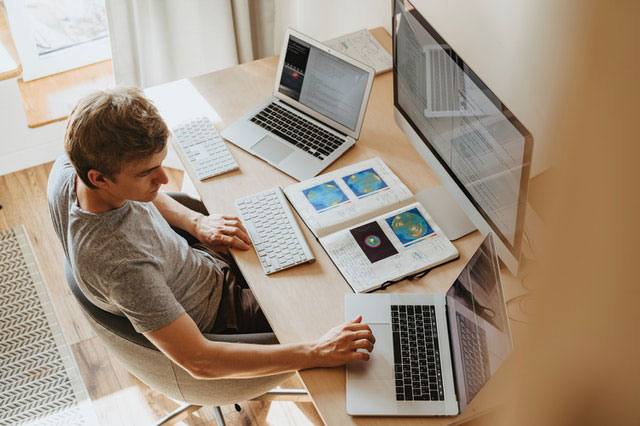 FlexJobs studied remote workers for the past several years, carefully tracking changes to the number of employees that began to work in coffee shops and from the comfort of their homes. Here's what they found:
From 2016 to 2017, the number of remote workers grew by 7.9%.
In the past five years, remote work increased by 44% in the U.S.
In the last decade, the increase was 91%.
From 2005 to 2015, there was a 159% increase in remote work.
In 2015 alone, 3.9 million U.S. workers were remote.
By February 2020, 4.7 million worked remotely, or 3.4% of the entire U.S. population.
But is remote work really productive? Let's look at some work from home productivity studies to find out if the remote worker is truly a productive worker.
Remote Work Productivity Study
Last year, Stanford University came out with data from what was perhaps the most extended study of the productivity of remote workers ever conducted. The study, conducted over two years, tracked the productivity of 500 employees who were fully remote during that time.
They found that these workers were so productive it was like giving them an extra day of production every single week. The study showed these workers were happier, and employee attrition decreased by 50%. These employees took shorter breaks, came to work on time, and took less time off. The company participating in the pilot also saved $2,000 per employee on rent.
But how have we fared during the coronavirus, when far more people began working from home—many alongside their children, most of whom ended up in online classes for a good part of this year?
Shockingly, we are just as productive, and there is a surprising amount of working from home productivity statistics from 2020 to back this up. For example:
Stanford University conducted a nationwide remote work productivity study that showed an efficiency rate of 80% or higher. But they also pointed out that many American workers do not have the computer equipment or even an adequate Wi-Fi signal to be able to benefit from remote work during the pandemic. They found that only 65% of Americans reported an internet speed fast enough to support video calls. Another 35% say they have such poor internet or no internet at all, that they cannot effectively telecommute.
FlexJobs issued a report in February 2020 that showed 85% of U.S. businesses that allowed employees to work from home reported a productivity increase. They also noted that 90% of employers said allowing their workers this flexibility increased morale. Another 77% of employers said allowing remote work lowered their operating costs. FlexJobs conducted a similar poll in 2018 that showed American workers believed working remotely helped them save money, reduced their stress, and increased their productivity. In fact, FlexJobs said these workers saved an average of $4,000 annually in commuting and travel costs when working from home.
MarketWatch conducted their own study of Silicon Valley technology companies and found that employers were thrilled with remote work productivity and encouraging workers to stay home, probably forever. According to the data, "U.S. workers were 47% more productive in March and April than in the same two months a year ago." The study looked at "100 million data points from 30,000 Americans."
The studies are in, and to date, there isn't a single one that shows productivity declining. Not one. Further, our employees are happier working remotely. What is it about working from home that seems so great to the American workforce?
10 Benefits of Working from Home
The data shows that there are benefits of working from home both for the employer and the employee. In fact, the benefits far outweigh the disadvantages.
Working from home productivity statistics show the employer is getting more bang for their productivity buck. They're saving money on office space and the number of sick days their workers are taking.
Attrition is less, and employees are happier. But what does the employee have to say about working from home? Here are 10-widely reported benefits:
You can customize your environment with music, no music, or anything else that keeps you motivated.
Comfortable clothes are in, and employees can save on haircuts, eating out, and work outfits.
Schedule flexibility is common; you can take breaks when you need to or work when you are most productive.
It's easier to conduct calls without scrambling to find a conference room.
Your house stays cleaner (perhaps). When you're on a call, you can multitask and run some laundry.
Zero commuting means there's less stress in your life.
There are no annoying office workers hanging over your cubicle wall when you're trying to concentrate.
You spend less money. A little earlier, we cited the studies showing the average remote worker saves $4,000 per year.
You have better work/life balance and more time with your family.
Your dog and cat are much happier with you at home.
There are also disadvantages to working from home. You have to work a little harder to maintain corporate culture. If you don't make a conscious effort, you may eat more, which means potentially gaining weight.
You may even feel lonely, missing the office environment and the camaraderie of working with your team face to face. However, the work from home productivity studies generally show that the pros far outweigh the cons of telecommuting.
What's Next for Work from Home?
Most analysts suggest the genie is out of the bottle, and the American workforce isn't planning on returning to the corporate office. In May, Facebook announced more than 95% of its employees were remote, and they were making adjustments to continue to allow work from home.
Verizon's company, Visible, announced the same approach this summer. By August 2020, 17 major companies announced work from home would continue indefinitely. Some of the companies included:
Google
REI
Square
Twitter
Uber
Zillow
Global Workplace Analytics says 56% of U.S. employees have a job where at least some of their work could be done remotely. These same studies show that desks in corporate America are vacant 50 to 60% of the time.
Global research consultancy Gartner conducted a national survey of corporate leaders and reported this summer that more than 80% plan on allowing their workers to continue their remote lifestyle after reopening from the COVID-19 pandemic. The respondents said they "were not worried about maintaining productivity," and more were concerned about maintaining culture.
So, it appears working from home is the new normal, at least for now. It's just another way the COVID-19 pandemic has changed life as we know it in 2020.