If you are looking for the best property investment strategies, one of them should involve building up as much equity as possible. Of course, who would not love to create instant equity in a home?
But, how can you do this short of sending a big fat check to the mortgage company?
As a homeowner or investor, you might have some remodeling plans, and what projects you choose could have a huge impact on your equity.
Here is what you need to know about home equity and which home remodel projects can get you the best return to increase the equity in your home.
What is Home Equity?
Home equity is a financial term that refers to the difference between what your home is worth and what you owe on your loan. For example:
If your home's value is $300,000,
And your mortgage balance is 200,000,
Your home equity is equal to $100,000.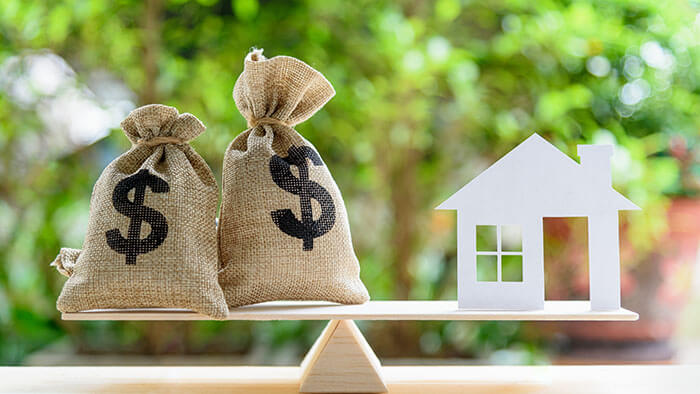 As a homeowner, it is not easy to figure out exactly how much home equity you have at any given moment. This is because home values tend to fluctuate with market conditions.
But, what is important to understand is that home equity is valuable because it's an asset. If you have enough of it, you can borrow against it for things like college expenses or starting a business. You can also use it to trade up to a bigger home or finance your retirement.
Ways to Increase Home Equity
You want as much home equity as possible. But how do you get it? You can increase your home equity in several ways:
1. Your Mortgage Balance Decreases
As you pay off your mortgage, your home equity will increase. You also have the option to pay an additional amount each month that goes directly towards paying down the loan principal.
2. Your Home's Value Increases Due to Market Forces
If home prices in your area are appreciating, your home equity could go up without you doing anything else.
3. Your Home's Value Increases Because of Improvements
By making purposeful, and well-time home improvements, you can increase the equity on your home.
Top Home Remodel Projects that Build Home Equity
Improving your home is always an attractive prospect. Maybe you feel like you're living in the '80s or the space just isn't functional. When you choose to remodel parts of your home, it makes your life more comfortable. And it can also increase your home's value.
Not every home remodeling project will give you the same return on your investment. Here are the ones that will get you the most bang for your buck and even increase the equity on your home:
1. Landscaping
One of the things that homebuyers look for in a home is curb appeal. One study suggests that you can increase your home's value by up to 15% by investing the equivalent amount in landscape upgrades and maintenance.
Whether you are looking to sell in the near future or not, you can increase the value of your home significantly but making it more attractive on the outside. And some of these upgrades are surprisingly affordable.
You can start with a well-landscaped lawn that includes gardens, shrubs, and small trees. If you are starting from nothing (a big dirt lot or a ton of weeds), consider adding an automatic irrigation system with a weather sensor. This is something that will keep your home's lawn looking beautiful for years to come and add value to the property.
Beyond plants, you can also add lighting, walkways, and other features to your yard to make it more useful, safe, and valuable.
2. Outdoor Deck Addition
Most homeowners dream of having an outdoor living space where they can spend time with loved ones, entertain, and have lazy afternoons. Decks can be pricey, but they can also give you a good return on your investment. So, adding a deck to your home could also help increase your home equity.
How much? According to one NAR/NALP study, a new deck could recover up to 106 percent of its value when your home is sold.
A simple wood deck gets the best ROI. If you choose composite materials or decide to spend upwards of $10,000 on your deck, you may not be able to get as much back in equity gains.
Of course, you should get the deck you want and maybe even go the DIY route to minimize your costs and maximize your returns.
3. Energy-Efficient Windows
If you are tired of living with drafty, old, worn-looking windows, it might be time to take some action. You can increase your home's value by replacing your windows with new, energy-efficient ones. But, be warned. New windows are not cheap
You could end up spending around $500-$600 per window. The national average cost of window installation for a home is $5,421. Your new windows will last up to 20 years and give your home more energy-efficiency, meaning lower power bills.
When choosing your window replacement, make sure you pick a style that upgrades your home's look. Also, choose a material that is at least as nice as what you are replacing. Some options include vinyl, wood, aluminum, composite, and fiberglass.
Finally, consider the function of your windows. If you live in an area with inclement weather, you might want impact-resistant glass. Multi-paned glass, gas-infused panes, and Low-E glass will get you the best energy efficiency and ROI.
4. Bathroom Remodel
Having a new or updated bathroom in your home will improve its value. But a full remodel will not have as high of an ROI as some strategic upgrades.
Another thing to consider is that the absence of a bathroom, or a decent sized one, could reduce the value of your home significantly. Consider a home with a fully finished basement that does not have a bathroom vs. one that does. Which do you think will be more valuable to potential buyers?
If you want to partially remodel your bathroom, the projects that will get you the biggest ROI include:
Flooring – New floors can give your bathroom a fresh overall appearance, and you can achieve this with vinyl wood floor planks for less than $2.00 per square foot.
Tub/Shower – Many homeowners are opting to remove bathtubs and install a larger walk-in shower instead.
Vanity – You will likely get the biggest boost to your home's equity by updating your vanity, countertops, sink, and faucet.
5. Kitchen Remodel
Kitchens rank high as home equity builders, and most homeowners are itching for a fully modern kitchen. But, again, you must choose your options with care, or you'll never get your money back.
Giving your kitchen a mini facelift is the best way to update a dysfunctional, damaged, dated, or ugly kitchen. This approach also won't break the bank and will have the best impact on your home's equity.
Here are some of the top ways to get the biggest ROI on a kitchen remodel:
Paint or refinish cabinets – Instead of replacing cabinets, paint or refinish them instead and add some new knobs or drawer pulls.
Replace your faucet – A new faucet is an impactful and cost-effective kitchen update.
Install a backsplash – If you don't have a backsplash, this is an affordable upgrade.
Get new lights – Lighting adds a lot to a space. Choose some LED lights and undercabinet lights for style and function.
Match your appliances – Pick one color (black, white, or stainless) and only replace the appliances that do not match your choice.
As property investment strategies go, building home equity through remodeling can be a good choice. When you choose the right projects, you can simultaneously add value to your property and enhance your everyday life.